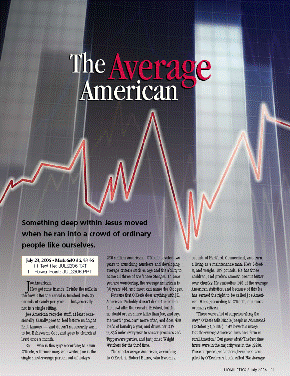 The Average American
Sunday, July 23, 2006
|
Mark 6:30-34, 53-56
Robert Burns is the average American. He's 5-foot-8, and weighs 185 pounds. He has three children, and prefers smooth peanut butter over chunky.

Joe American.

He's got nine friends. Drinks the milk in the bowl after the cereal is finished. Eats 25 pounds of candy per year — but generally not in a single sitting.

Joe American recycles stuff, at least occasionally. Usually goes to bed before midnight. Isn't famous — and doesn't necessarily want to be. Believes in God, and goes to church at least once a month.

So … who is this guy? According to Kevin O'Keefe, a former magazine writer, Joe is the single most average person out of today's 280 million Americans. O'Keefe devoted two years to crunching numbers and developing average criteria such as age and the ability to name all three of the Three Stooges. In case you are wondering, the average American is 36 years old, and most can name the Stooges.

Not sure that O'Keefe does anything with Jill American. Probably doesn't drink the milk in the bowl after the cereal is finished, but she no doubt orders more lattes than Joe, and...
---
Start today. Cancel any time.
Act now and, for just $7.99 a month or $69.95 a year, you'll receive a full year of this valuable sermon preparation resource.
Our convenient, continuous-subscription program ensures you'll never miss out on the inspiration you need, when you need it.
You're never obligated to continue. Naturally, you may cancel at any time for any reason, no questions asked.