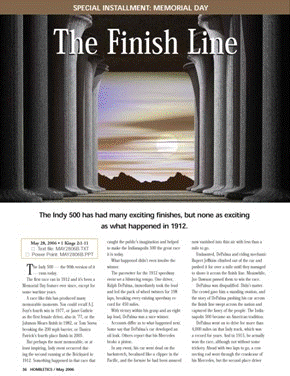 The Finish Line
Sunday, May 28, 2006
|
1 Kings 2:1-11
SPECIAL INSTALLMENT: MEMORIAL DAY
At the Indianapolis 500 in 1912, Ralph DePalma wouldn't be denied.

The Indy 500 — the 90th version of it — runs today.

The first race ran in 1911 and it's been a Memorial Day feature ever since, except for some wartime years.

A race like this has produced many memorable moments. You could recall A.J. Foyt's fourth win in 1977, or Janet Guthrie as the first female driver, also in '77, or the Johncock-Mears finish in 1982, or Tom Sneva breaking the 200 mph barrier, or Danica Patrick's fourth-place finish in 2005.

But perhaps the most memorable, or at least inspiring, Indy event occurred during the second running at the Brickyard in 1912. Something happened in that race that caught the public's imagination and helped to make the Indianapolis 500 the great race it is today.

What happened didn't even involve the winner.

The pacesetter for the 1912 speedway event set a blistering tempo. One driver, Ralph DePalma, immediately took the lead and led the pack of wheel twisters for 198 laps, breaking every existing speedway record for 450 miles.

With victory within...
---
Start today. Cancel anytime.
Act now and, for just $6.99 a month or $69.95 a year, you'll receive a full year of this valuable, sermon preparation resource.
Our convenient, continuous-subscription program ensures you'll never miss out on the inspiration you need, when you need it.
You're never obligated to continue. Naturally, you may cancel at any time for any reason, no questions asked.