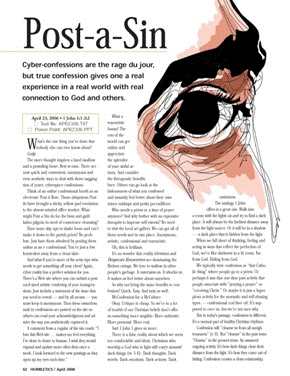 Post-a-Sin
Sunday, April 23, 2006
|
1 John 1:1-2:2
Can't get to the confessional? Need to itemize a few transgressions? As with most activities, you can bare your soul on the Internet.

What's the one thing you've done that nobody else can ever know about?

Gulp.

The mere thought inspires a hard swallow and a pounding heart. Rest at ease. There are now quick and convenient, anonymous and even aesthetic ways to deal with those nagging sins of yours: cyberspace confessions.

Think of an online confessional booth as an electronic Post-it-Note. Those ubiquitous Post-its have brought a sticky, yellow-pad revolution to the absent-minded office worker. What might Post-a-Sin do for the busy and guilt-laden pilgrim in need of conscience cleansing?

Have some slip-ups to shake loose and can't make it down to the parish priest? No problem. Just have them absolved by posting them online at an e-confessional. You're just a few keystrokes away from a clean slate.

And what if you're more of the artsy type who needs to get something off your chest? Again, cyber-reality has a perfect solution for you. There's a Web site where you can submit a...
---
Start today. Cancel any time.
Act now and, for just $7.99 a month or $69.95 a year, you'll receive a full year of this valuable sermon preparation resource.
Our convenient, continuous-subscription program ensures you'll never miss out on the inspiration you need, when you need it.
You're never obligated to continue. Naturally, you may cancel at any time for any reason, no questions asked.