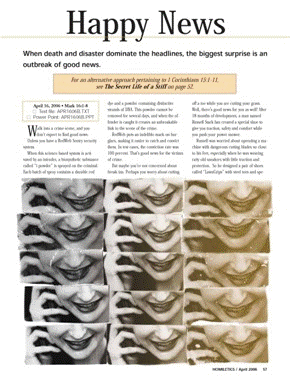 Happy News
Sunday, April 16, 2006
|
Mark 16:1-8
Would you like to really have all the news that's fit to print? Okay, then, go to HappyNews.com.

Walk into a crime scene, and you don't expect to find good news.

Unless you have a RedWeb Sentry security system.

When this science-based system is activated by an intruder, a biosynthetic substance called "i-powder" is sprayed on the criminal. Each batch of spray contains a durable red dye and a powder containing distinctive strands of DNA. This powder cannot be removed for several days, and when the offender is caught it creates an unbreakable link to the scene of the crime.

RedWeb puts an indelible mark on burglars, making it easier to catch and convict them. In test cases, the conviction rate was 100 percent. That's good news for the victims of crime.

But maybe you're not concerned about break-ins. Perhaps you worry about cutting off a toe while you are cutting your grass. Well, there's good news for you as well! After 18 months of development, a man named Russell Stark has created a special shoe to give you traction, safety and comfort while you...
---
Start today. Cancel anytime.
Act now and, for just $6.99 a month or $69.95 a year, you'll receive a full year of this valuable, sermon preparation resource.
Our convenient, continuous-subscription program ensures you'll never miss out on the inspiration you need, when you need it.
You're never obligated to continue. Naturally, you may cancel at any time for any reason, no questions asked.