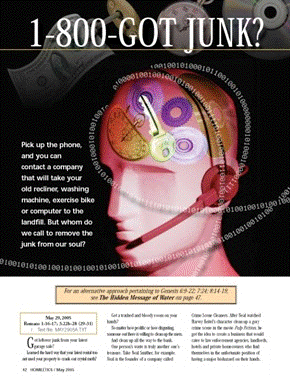 1-800-GOT JUNK?
Sunday, May 29, 2005
|
Romans 1:16-17; 3:22b-28 (29-31)
1-800 numbers will get you almost anything, including autopsies, crime-scene cleanup, or junk removal.
Got leftover junk from your latest garage sale?

Learned the hard way that your latest rental tenant used your property to crank out crystal meth?

Got a trashed and bloody room on your hands?

No matter how prolific or how disgusting, someone out there is willing to clean up the mess.

And clean up all the way to the bank.

One person's waste is truly another one's treasure. Take Neal Smither, for example. Neal is the founder of a company called Crime Scene Cleaners. After Neal watched Harvey Keitel's character clean up a gory crime scene in the movie Pulp Fiction, he got the idea to create a business that would cater to law enforcement agencies, landlords, hotels and private homeowners who find themselves in the unfortunate position of having a major biohazard on their hands. The company's post-CSI services include homicide, suicide and accidental death remediation, police vehicle cleaning and decontamination, blood and body fluid disposal, methamphetamine lab contamination cleanup and...
---
Start today. Cancel anytime.
Act now and, for just $6.99 a month or $69.95 a year, you'll receive a full year of this valuable, sermon preparation resource.
Our convenient, continuous-subscription program ensures you'll never miss out on the inspiration you need, when you need it.
You're never obligated to continue. Naturally, you may cancel at any time for any reason, no questions asked.