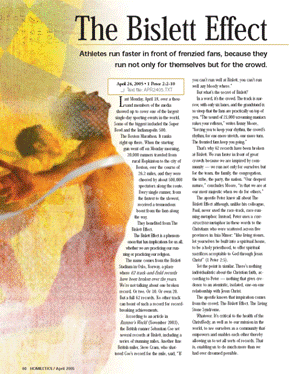 The Bislett Effect
Sunday, April 24, 2005
|
1 Peter 2:2-10
More than 62 world track-and-field records have been broken in Oslo, Norway — more than any other venue. How come?
Last Monday, April 18, over a thousand members of the media showed up to cover one of the largest single-day sporting events in the world. Some of the biggest included the Super Bowl and the Indianapolis 500.

The Boston Marathon. It ranks right up there. When the starting gun went off on Monday morning, 20,000 runners traveled from rural Hopkinton to the city of Boston, over the course of 26.2 miles, and they were cheered by about 500,000 spectators along the route. Every single runner, from the fastest to the slowest, received a tremendous boost from the fans along the way.

They benefited from The Bislett Effect.

The Bislett Effect is a phenomenon that has implications for us all, whether we are practicing our running or practicing our religion.

The name comes from the Bislett Stadium in Oslo, Norway, a place where 62 track-and-field records have been broken over the years. We're not talking about one broken record. Or two. Or 10. Or even 20. But a full 62 records. No...
---
Start today. Cancel anytime.
Act now and, for just $6.99 a month or $69.95 a year, you'll receive a full year of this valuable, sermon preparation resource.
Our convenient, continuous-subscription program ensures you'll never miss out on the inspiration you need, when you need it.
You're never obligated to continue. Naturally, you may cancel at any time for any reason, no questions asked.