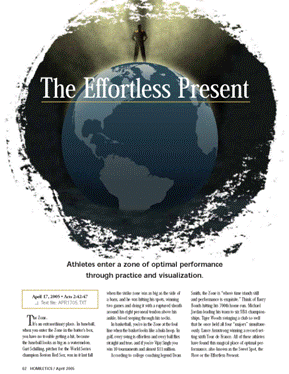 The Effortless Present
Sunday, April 17, 2005
|
Acts 2:42-47
To find the Sweet Spot or enter "the Zone," athletes must practice and visualize.
The Zone.

It's an extraordinary place. In baseball, when you enter the Zone in the batter's box, you have no trouble getting a hit, because the baseball looks as big as a watermelon. Curt Schilling, pitcher for the World Series champion Boston Red Sox, was in it last fall when the strike zone was as big as the side of a barn, and he was hitting his spots, winning two games and doing it with a ruptured sheath around his right peroneal tendon above his ankle, blood seeping through his socks.

In basketball, you're in the Zone at the foul line when the basket looks like a hula hoop. In golf, every swing is effortless and every ball flies straight and true, and if you're Vijay Singh you win 10 tournaments and almost $11 million.

According to college coaching legend Dean Smith, the Zone is "where time stands still and performance is exquisite." Think of Barry Bonds hitting his 700th home run. Michael Jordan leading his team to six NBA championships....
---
Start today. Cancel any time.
Act now and, for just $7.99 a month or $69.95 a year, you'll receive a full year of this valuable sermon preparation resource.
Our convenient, continuous-subscription program ensures you'll never miss out on the inspiration you need, when you need it.
You're never obligated to continue. Naturally, you may cancel at any time for any reason, no questions asked.