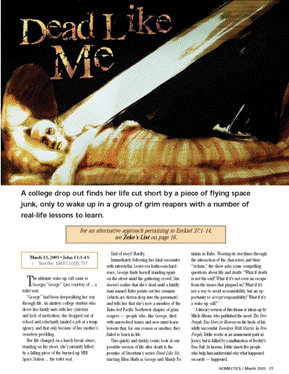 Dead Like Me
Sunday, March 13, 2005
|
John 11:1-45
Call it a wake-up flush. In one of Showtime's new series, Georgia gets fatally clobbered on the head by a toilet seat from the Mir space station. Her old life tanked, she gets a new chance.

Getting your kicks.

The ultimate wake-up call came to Georgia "George" Lass courtesy of ... a toilet seat.

"George" had been sleepwalking her way through life. An aimless college student who drove her family nuts with her cynicism and lack of motivation, she dropped out of school and reluctantly landed a job at a temp agency, and that only because of her mother's ceaseless prodding.

Her life changed on a lunch break where, standing on the street, she's instantly killed by a falling piece of the burned-up MIR Space Station ... the toilet seat.

End of story? Hardly.

Immediately following her fatal encounter with interstellar Soviet-era bathroom hardware, George finds herself standing again on the street amid the gathering crowd. She doesn't realize that she's dead until a kindly man named Rube points out her remains (which are driven deep into the pavement) and tells her that she's now a member of the Rube-led Pacific Northwest ...
---
Start today. Cancel anytime.
Act now and, for just $6.99 a month or $69.95 a year, you'll receive a full year of this valuable, sermon preparation resource.
Our convenient, continuous-subscription program ensures you'll never miss out on the inspiration you need, when you need it.
You're never obligated to continue. Naturally, you may cancel at any time for any reason, no questions asked.