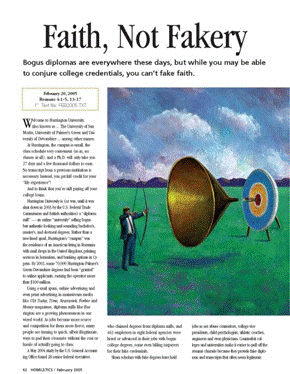 Faith, Not Fakery
Sunday, February 20, 2005
|
Romans 4:1-5, 13-17
The GAO recently discovered that more than 450 federal employees had claimed bogus degrees on their résumés. The Christians in Rome are reminded that it's not about fakery, but about faith-ery!
Welcome to Harrington University.

Also known as ... The University of San Moritz, University of Palmer's Green and University of Devonshire ... among other names.

At Harrington, the campus is small, the class schedule very convenient (as in, no classes at all), and a Ph.D. will only take you 27 days and a few thousand dollars to earn. No transcript from a previous institution is necessary. Instead, you get full credit for your "life experience"!

And to think that you're still paying off your college loans.

Harrington University is (or was, until it was shut down in 2003 by the U.S. Federal Trade Commission and British authorities) a "diploma mill" — an online "university" selling bogus but authentic-looking-and-sounding bachelor's, master's, and doctoral degrees. Rather than a tree-lined quad, Harrington's "campus" was the residence of an American living in Romania with mail drops in the United Kingdom, printing services in Jerusalem, and banking options in Cyprus. By 2002, some 70,000...