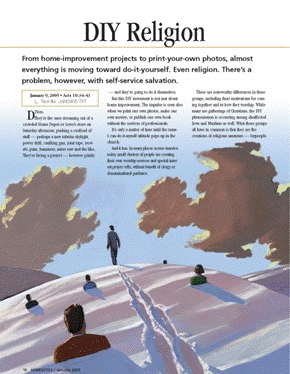 DIY Religion
Sunday, January 9, 2005
|
Acts 10:34-43
House churches. The emerging church movement. Alternative church. A lot of Christians are saying that we can do church without the help of the experts. Outrageous!
DIYers.

They're the ones streaming out of a crowded Home Depot or Lowe's store on Saturday afternoon, pushing a cartload of stuff — perhaps a new tubular skylight, power drill, caulking gun, joint tape, trowels, pans, hammers, miter saw and the like. They're facing a project — however grimly— and they're going to do it themselves.

But this DIY movement is not just about home improvement. The impulse is seen also when we print our own photos, make our own movies, or publish our own book without the services of professionals.

It's only a matter of time until the same I-can-do-it-myself attitude pops up in the church.

And it has. In many places across America today, small clusters of people are creating their own worship services and special-interest prayer cells, without benefit of clergy or denominational guidance.

There are noteworthy differences in these groups, including their motivations for coming together and in how they worship. While many are gatherings of Christians, the DIY...
---
Start today. Cancel anytime.
Act now and, for just $6.99 a month or $69.95 a year, you'll receive a full year of this valuable, sermon preparation resource.
Our convenient, continuous-subscription program ensures you'll never miss out on the inspiration you need, when you need it.
You're never obligated to continue. Naturally, you may cancel at any time for any reason, no questions asked.