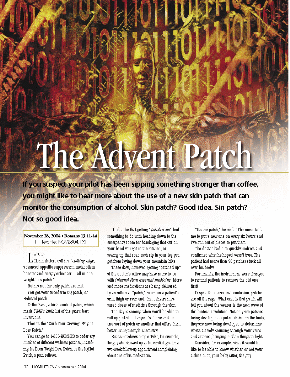 The Advent Patch
Sunday, November 28, 2004
|
Romans 13:11-14
Think your pilot has been sipping something other than coffee? Now there's a skin patch that monitors blood alcohol levels and reports to an electronic monitor. Some think the skin patch/sin patch is a good idea. Others prefer a more positive approach.
Le Patch.

Its marketers call it a "cutting-edge, advanced appetite suppressant, metabolism booster and energy enhancer ... all in one weight-loss patch."

But it's not the only patch around.

You got your Nicoderm CQ patch, or Habitrol patch.

Ortho Evra, a birth control patch, which made TIME's 2002 list of the year's best inventions.

There's the "Curb Your Cravings Weight Loss Patch."

You can go to 1-800-PATCHES to order any number of different wellness patches, including the Èden Weight Loss Patch, or the IcyHot Patch, a pain reliever.

Used to be that getting "patched up" had something to do with heading down to the emergency room for bandaging that cut on your hand you got in the kitchen, or sewing up that road rash rip in your leg you got from laying down your mountain bike.

These days, however, getting "patched up" at the doctor's office may have more to do with internal than external medicine. More and...
---
Start today. Cancel anytime.
Act now and, for just $6.99 a month or $69.95 a year, you'll receive a full year of this valuable, sermon preparation resource.
Our convenient, continuous-subscription program ensures you'll never miss out on the inspiration you need, when you need it.
You're never obligated to continue. Naturally, you may cancel at any time for any reason, no questions asked.