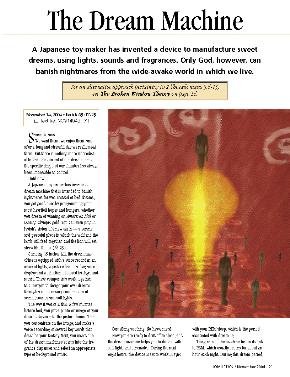 The Dream Machine
Sunday, November 14, 2004
|
Isaiah 65:17-25
The Japanese have invented a machine that promises to give us sweet dreams. Fine. What we really need, however, is something that can change our days, not our nights.
Sweet dreams.

We want them, we enjoy them, and after a long and stressful day we really need them. But there is nothing more unpredictable than the content of our dreams, and the specific shape of our slumber has always been impossible to control.

Until now.

A Japanese toy-maker has invented a dream machine that is intended to banish nightmares forever. Instead of bad dreams, you get good ones by programming your most heartfelt hopes and hungers, whether you dream of winning on American Idol or scoring Olympic gold. You can even plug in Isaiah's vision of a new earth — a serene and peaceful place in which the wolf and the lamb will feed together, and the lion will eat straw like the ox (65:25).

Standing 35 inches tall, the dream machine is equipped with a voice recorder, an array of lights, a picture frame, a fragrance display and a selection of stored background music. These components work together to allow you to design your own dreams through a multisensory combination of...
---
Start today. Cancel anytime.
Act now and, for just $6.99 a month or $69.95 a year, you'll receive a full year of this valuable, sermon preparation resource.
Our convenient, continuous-subscription program ensures you'll never miss out on the inspiration you need, when you need it.
You're never obligated to continue. Naturally, you may cancel at any time for any reason, no questions asked.