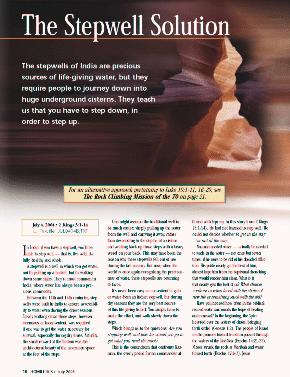 The Stepwell Solution
Sunday, July 4, 2004
|
2 Kings 5:1-14
The stepwells of India, until recently, widely abandoned, require one to go down below the earth to underground caverns to retrieve water. Naaman the Syrian, however, was in no mood to go down into the water, even if it could mean coming up and out of the water healed and whole.
In India, if you have a stepwell, you'll be able to step well — that is, live well, live fully, healthy and whole.

A stepwell is a well in which you get water, not by pulling up a bucket, but by walking down some stairs. They're most common in India, where water has always been a precious commodity.

Between the 11th and 16th centuries, stepwells were built in India to ensure accessibility to water even during the driest seasons. Slowly walking down these steps, however strenuous or inconvenient, was required if one was to get the water necessary for survival, especially during dry times. Actually, the small reward at the bottom was the architectural beauty of the cavernous space at the foot of the steps.

One might assume the traditional well to be much easier; simply pulling up the water from the well and carrying it away, rather than descending to the depths of a cistern and walking back up those steps with a heavy vessel on your back. This may have been the reason why these stepwells ...
---
Start today. Cancel anytime.
Act now and, for just $6.99 a month or $69.95 a year, you'll receive a full year of this valuable, sermon preparation resource.
Our convenient, continuous-subscription program ensures you'll never miss out on the inspiration you need, when you need it.
You're never obligated to continue. Naturally, you may cancel at any time for any reason, no questions asked.