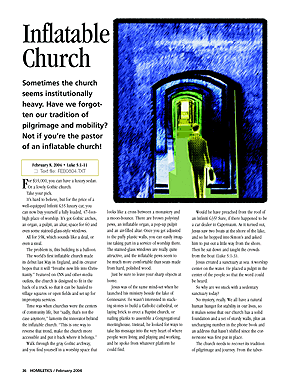 Inflatable Church
Sunday, February 8, 2004
|
Luke 5:1-11
Some would call him a wacky rector, but Fr. Michael Elfred of Tadworth, Surrey, England, did not hesitate to commission a new church, even though it has to be blown up — literally — before one can worship in it. The inflatable church poses some interesting questions for a people of God who too often find themselves anchored to the past.

For $35,000, you can have a luxury sedan. Or a lovely Gothic church.

Take your pick.

It's hard to believe, but for the price of a well-equipped Infiniti G35 luxury car, you can now buy yourself a fully loaded, 47-foot-high place of worship. It's got Gothic arches, an organ, a pulpit, an altar, space for 60 and even some stained-glass-style windows.

All for 35K, which sounds like a deal, or even a steal.

The problem is, this building is a balloon.

The world's first inflatable church made its debut last May in England, and its creator hopes that it will "breathe new life into Christianity." Featured on CNN and other media outlets, the church is designed to fit in the back of a truck so that it can be hauled to village squares or open fields and set up for impromptu services.

Time was when churches were the centers of community life, but "sadly, that's not the case anymore," laments the innovator behind the inflatable church. "This is one way to reverse that trend, make the church more...