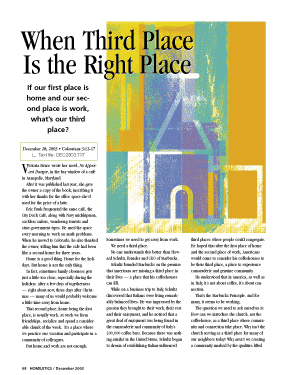 When Third Place Is the Right Place
Sunday, December 28, 2003
|
Colossians 3:12-17
When Third Place Is the Right Place
Home is where the heart is. Most of the time, anyway. When we're not at home, we're often at work. So is that it? Home or work? Is there a third place we can go for connection and community? Howard Schultz, CEO of Starbucks, thinks so.

Victoria Bruce wrote her novel, No Apparent Danger, in the bay window of a café in Annapolis, Maryland.

After it was published last year, she gave the owner a copy of the book, inscribing it with her thanks for the office space she'd used for the price of a latte.

Eric Funk frequented the same café, the City Dock Café, along with Navy midshipmen, sockless sailors, wandering tourists and state-government types. He used the space every morning to work on math problems. When he moved to Colorado, he also thanked the owner, telling him that the café had been like a second home for three years.

Home is a good thing. Home for the holidays. But home is not the only thing.
In fact, sometimes family closeness gets just a little too close, especially during the holidays. After a few days of togetherness — right about now, three days after Christmas — many of us would probably welcome a little time away from home.

That second place, home being the first place, is usually work. At work we form...