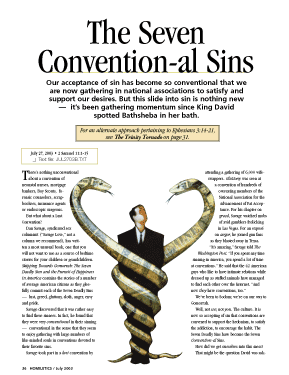 The Seven Convention-al Sins
Sunday, July 27, 2003
|
2 Samuel 11:1-15
There isn't a sin, vice or addiction that doesn't have some convention to which devotees cannot attend to fuel their addiction. The attempt to rehabilitate sin has forgotten one important concept: repentance.
There's nothing unconventional about a convention of neonatal nurses, mortgage bankers, Boy Scouts, forensic counselors, scrapbookers, insurance agents or endoscopic surgeons.

But what about a Lust Convention?

Dan Savage, syndicated sex columnist ("Savage Love," not a column we recommend), has written a most unusual book, one that you will not want to use as a source of bedtime stories for your children or grandchildren. Skipping Towards Gomorrah: The Seven Deadly Sins and the Pursuit of Happiness in America contains the stories of a number of average American citizens as they gleefully commit each of the Seven Deadly Sins — lust, greed, gluttony, sloth, anger, envy and pride.

Savage discovered that it was rather easy to find these sinners. In fact, he found that they were very conventional in their sinning — conventional in the sense that they seem to enjoy gathering with large numbers of like-minded souls in conventions devoted to their favorite sins.

Savage took part in a lust...
---
Start today. Cancel anytime.
Act now and, for just $6.99 a month or $69.95 a year, you'll receive a full year of this valuable, sermon preparation resource.
Our convenient, continuous-subscription program ensures you'll never miss out on the inspiration you need, when you need it.
You're never obligated to continue. Naturally, you may cancel at any time for any reason, no questions asked.