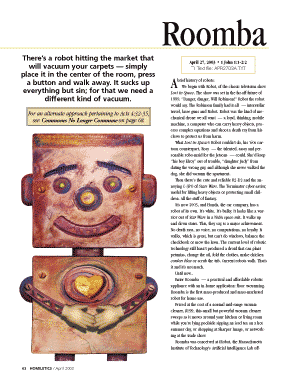 Roomba
Sunday, April 27, 2003
|
1 John 1:1-2:2
Perhaps for the first time, a practical, but cute, little robot is on the market for household use — and the cost is only a couple hundred bucks. The little fella can only do one thing — clean carpets — but he does it rather well.
A brief history of robots:

We begin with Robot, of the classic television show Lost in Space. The show was set in the far-off future of 1999. "Danger, danger, Will Robinson!" Robot the robot would say. The Robinson family had it all — interstellar travel, laser guns and Robot. Robot was the kind of mechanical drone we all want — a loyal, thinking, mobile machine, a computer who can carry heavy objects, process complex equations and shoot a death ray from his claws to protect us from harm.

What Lost in Space's Robot couldn't do, his '60s cartoon counterpart, Rosy — the talented, sassy and personable robo-maid for the Jetsons — could. She'd keep "his boy Elroy" out of trouble, "daughter Judy" from dating the wrong guy, and although she never walked the dog, she did vacuum the apartment.

Then there's the cute and reliable R2-D2 and the annoying C-3PO of Stars Wars. The Terminator cyber-savior, useful for lifting heavy objects or protecting small children. All the stuff of fantasy....
---
Start today. Cancel any time.
Act now and, for just $7.99 a month or $69.95 a year, you'll receive a full year of this valuable sermon preparation resource.
Our convenient, continuous-subscription program ensures you'll never miss out on the inspiration you need, when you need it.
You're never obligated to continue. Naturally, you may cancel at any time for any reason, no questions asked.