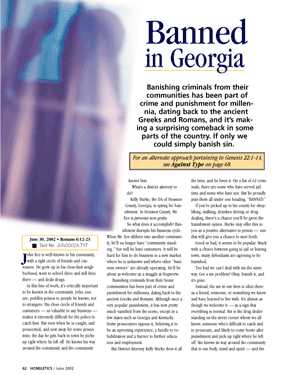 Banned in Georgia
Sunday, June 30, 2002
|
Romans 6:12-23
Some communities in our country are dealing with the criminal element among them by inviting - no demanding - that the felons move out of the area. They're free to go anywhere, as long as they get out of town. Too bad we can't deal with the "sin element" as easily.
John Xee is well-known in his community, with a tight circle of friends and customers. He grew up in his close-knit neighborhood, went to school there and still lives there - and deals drugs.

In this line of work, it's critically important to be known in the community. John, you see, peddles poison to people he knows, not to strangers. His close circle of friends and customers - so valuable in any business - makes it extremely difficult for the police to catch him. But even when he is caught, and prosecuted, and sent away for some prison time, the day he gets back to town he picks up right where he left off. He knows his way around the community and the community knows him.

What's a district attorney to do?

Kelly Burke, the DA of Houston County, Georgia, is opting for banishment. In Houston County, Mr. Xee is persona non grata.

So what does it accomplish? Banishment disrupts his business cycle. When Mr. Xee slithers into another community, he'll no longer have "community standing." Nor...
---
Start today. Cancel anytime.
Act now and, for just $6.99 a month or $69.95 a year, you'll receive a full year of this valuable, sermon preparation resource.
Our convenient, continuous-subscription program ensures you'll never miss out on the inspiration you need, when you need it.
You're never obligated to continue. Naturally, you may cancel at any time for any reason, no questions asked.