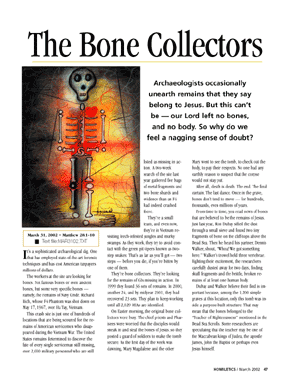 Bone Collectors
Sunday, March 31, 2002
|
Matthew 28:1-10
Archaeologists occasionally unearth remains that they say belong to Jesus. But this can't be -- our Lord left no bones, and no body. So why do we feel a nagging sense of doubt?

It's a sophisticated archaeological dig. One that has employed state-of-the-art forensic techniques and has cost American taxpayers millions of dollars.

The workers at the site are looking for bones. Not famous bones or even ancient bones, but some very specific bones -- namely, the remains of Navy Cmdr. Richard Rich, whose F4 Phantom was shot down on May 17, 1967, over Ha Tay, Vietnam.

This crash site is just one of hundreds of locations that are being scoured for the remains of American servicemen who disappeared during the Vietnam War. The United States remains determined to discover the fate of every single serviceman still missing, over 2,000 military personnel who are still listed as missing in action. A two-week search of the site last year gathered five bags of metal fragments and two bone shards and evidence than an F4 had indeed crashed there.

They're a small team, and even now, they're in Vietnam revisiting leech-infested jungles and murky swamps. As they work, they try to...
---
Start today. Cancel any time.
Act now and, for just $7.99 a month or $69.95 a year, you'll receive a full year of this valuable sermon preparation resource.
Our convenient, continuous-subscription program ensures you'll never miss out on the inspiration you need, when you need it.
You're never obligated to continue. Naturally, you may cancel at any time for any reason, no questions asked.