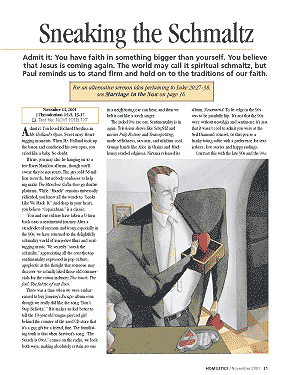 Sneaking the Schmaltz
Sunday, November 11, 2001
|
2 Thessalonians 2:1-5, 13-17
The irony of the '90s may not be gone, but romanticism and sentimentality are definitely making an unapologetic comeback. Just another reason to reaffirm the ancient traditions of our faith.
Admit it. You loved Richard Dreyfuss in Mr. Holland's Opus. Sweet story. Heart-tugging moments. When Mr. Holland took up the baton and conducted his own opus, you cried like a baby. No doubt.
If true, you may also be hanging on to a few Barry Manilow albums, though you'll swear they're not yours. The guy sold 58 million records, but nobody confesses to helping make The Manilow Collection go double platinum. While "Mandy" remains universally ridiculed, you know all the words to "Looks Like We Made It." And deep in your heart, you believe "Copacabana" is a classic.
You and our culture have taken a U-turn back onto a sentimental journey. After a steady diet of sarcasm and irony, especially in the 90s, we have returned to the delightfully schmaltzy world of tearjerker films and soul-tugging music. We secretly "sneak the schmaltz," appreciating all the over-the-top sentimentality expressed in pop culture, apoplectic at the thought that someone may discover we actually liked those old...
---
Start today. Cancel anytime.
Act now and, for just $6.99 a month or $69.95 a year, you'll receive a full year of this valuable, sermon preparation resource.
Our convenient, continuous-subscription program ensures you'll never miss out on the inspiration you need, when you need it.
You're never obligated to continue. Naturally, you may cancel at any time for any reason, no questions asked.