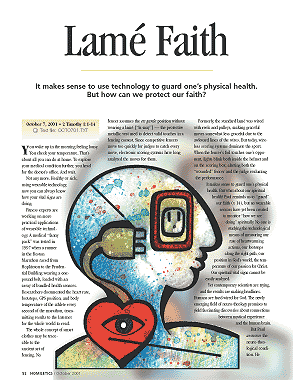 Lamé Faith
Sunday, October 7, 2001
|
2 Timothy 1:1-14
Biomedical technology is churning out some glitzy and funky devices to monitor our health 24/7. Smart underwear, fanny packs, and a HeartThrob brooch, for example, are only the beginning. Yet none of this digital data says anything about the strength of our faith.

It makes sense to use technology to guard one's physical health.
But how can we protect our faith?

You wake up in the morning feeling lousy. You check your temperature. That's about all you can do at home. To explore your medical condition further, you head for the doctor's office. And wait.
Not any more. Healthy or sick, using wearable technology, now you can always know how your vital signs are doing.
Fitness experts are working on more practical applications of wearable technology. A medical "fanny pack" was tested in 1997 when a runner in the Boston Marathon raced from Hopkinton to the Prudential Building wearing a one-pound belt, loaded with an array of bundled health sensors. Researchers documented the heart rate, footsteps, GPS position, and body temperature of the athlete every second of the marathon, transmitting results to the Internet for the whole world to read.
The whole concept of smart clothes may be traceable to the ancient art of fencing. No fencer assumes the en garde...
---
Start today. Cancel anytime.
Act now and, for just $6.99 a month or $69.95 a year, you'll receive a full year of this valuable, sermon preparation resource.
Our convenient, continuous-subscription program ensures you'll never miss out on the inspiration you need, when you need it.
You're never obligated to continue. Naturally, you may cancel at any time for any reason, no questions asked.