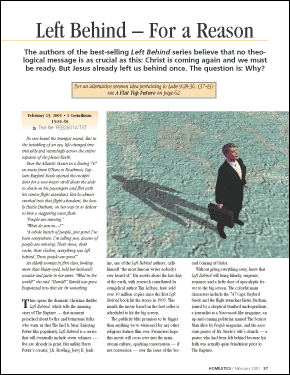 Left Behind - For a Reason
Sunday, February 25, 2001
|
1 Corinthians 15:19-26
The Left Behind books point to a future when many may be left holding the bag while Christians disappear into the clouds. But Jesus left us all behind once already. How come?
No one heard the trumpet sound. But in the twinkling of an eye, life changed irretrievably and stunningly across the entire expanse of the planet Earth.

Over the Atlantic Ocean in a Boeing 747 en route from O'Hare to Heathrow, Captain Rayford Steele opened the cockpit door for a wee-hours stroll down the aisle to check on his passengers and flirt with his senior flight attendant. But he almost crashed into that flight attendant, the lovely Hattie Durham, on her way in to deliver to him a staggering news flash:

"People are missing."

"What do you m-?"

"A whole bunch of people, just gone! I've been everywhere. I'm telling you, dozens of people are missing. Their shoes, their socks, their clothes, everything was left behind. These people are gone!"

An elderly woman in first class, looking more than bleary-eyed, held her husband's sweater and pants in her arms. "What in the world?" she said. "Harold?" Harold was gone. Evaporated into thin air. Or something.

Thus opens the dramatic Christian...
---
Start today. Cancel anytime.
Act now and, for just $6.99 a month or $69.95 a year, you'll receive a full year of this valuable, sermon preparation resource.
Our convenient, continuous-subscription program ensures you'll never miss out on the inspiration you need, when you need it.
You're never obligated to continue. Naturally, you may cancel at any time for any reason, no questions asked.