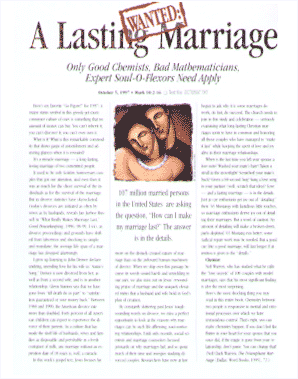 Wanted: A Lasting Marriage. Only Good Chemists, Bad mathematicians, Expert Soul-O-Flexors Need Apply
Sunday, October 5, 1997
|
Mark 10:2-16
The words "married life" need not be an oxymoron.
Here's my favorite "Go Figure!" for 1997: A major status symbol in this greedy-get-more consumer culture of ours is something that no amount of money can buy. You can't inherit it; you can't discover it; you can't even own it.

What is it? What is this remarkable commodity that draws gasps of astonishment and admiring glances when it is revealed?

It's a miracle marriage -- a long-lasting, loving marriage of two committed people.

It used to be only Golden Anniversary couples that got our attention, and even then it was as much for the sheer survival of the individuals as for the survival of the marriage. But as divorce statistics have skyrocketed (today's divorces are initiated as often by wives as by husbands, reveals Jan Jarboe Russell in "What Really Makes Marriage Last," Good Housekeeping, 1996, 98-99, 144), as divorce proceedings and grounds have shifted from laborious and shocking to simple and mundane, the average life span of a marriage has dropped alarmingly.

I grew up...
---
Start today. Cancel any time.
Act now and, for just $7.99 a month or $69.95 a year, you'll receive a full year of this valuable sermon preparation resource.
Our convenient, continuous-subscription program ensures you'll never miss out on the inspiration you need, when you need it.
You're never obligated to continue. Naturally, you may cancel at any time for any reason, no questions asked.