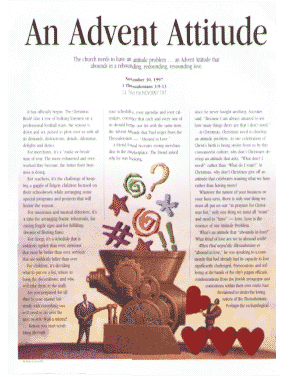 An Advent Attitude
Sunday, November 30, 1997
|
1 Thessalonians 3:9-13
At Christmas time, the church needs an Advent attitude.
It has officially begun. The Christmas Rush! Like a row of hulking linemen on a professional football team, the season is down and set, poised to plow over us with all its demands, distractions, details, dilemmas, delights and duties.

For merchants, it's a "make-or-break" time of year. The more exhausted and overworked they become, the better their business is doing.

For teachers, it's the challenge of keeping a gaggle of fidgety children focused on their schoolwork while arranging some special programs and projects that will honor the season.

For musicians and musical directors, it's a time for arranging frantic rehearsals, for easing fragile egos and for fulfilling dreams of fleeting fame.

For clergy, it's a schedule that is suddenly tighter than ever, sermons that must be better than ever, services that are suddenly fuller than ever.

For children, it's deciding what to put on a list, where to hang the decorations, and who will take them to the mall.

Are you prepared for ...