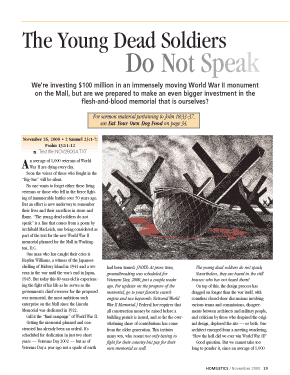 The Young Dead Soldiers Do Not Speak
Sunday, November 26, 2000
|
2 Samuel 23:1-7
The national memorial for those who died in the fighting during WWII has been on the drawing boards for years. Groundbreaking was scheduled for this month. Meanwhile, WWII vets are dying at the rate of 1,000 a day. So what is a monument anyway? How will we be remembered?




An average of 1,000 veterans of World War II are dying every day.

Soon the voices of those who fought in the "Big One" will be silent.

No one wants to forget either these living veterans or those who fell in the fierce fighting of innumerable battles over 50 years ago. But an effort is now underway to remember their lives and their sacrifices in stone and flame. "The young dead soldiers do not speak" is a line that comes from a poem by Archibald MacLeish, one being considered as part of the text for the new World War II memorial planned for the Mall in Washington, D.C.

One man who has caught their cries is Hayden Williams, a witness of the Japanese shelling of Midway Island in 1941 and a veteran in the war until the war's end in Japan, 1945. But today this 80-year-old is experiencing the fight of his life as he serves as the government's chief overseer for the proposed war memorial, the most ambitious such enterprise on the Mall since the Lincoln Memorial was dedicated in...
---
Start today. Cancel anytime.
Act now and, for just $6.99 a month or $69.95 a year, you'll receive a full year of this valuable, sermon preparation resource.
Our convenient, continuous-subscription program ensures you'll never miss out on the inspiration you need, when you need it.
You're never obligated to continue. Naturally, you may cancel at any time for any reason, no questions asked.