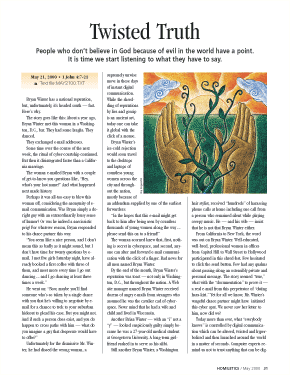 Twisted Truth
Sunday, May 21, 2000
|
1 John 4:7-21
If it is digital it's dangerous. No information is safe. It can be altered and twisted. But the apostle John says there is one truth that can't be twisted.
Bryan Winter has a national reputation, but, unfortunately, it's headed south - fast. Here's why.

The story goes like this: About a year ago, Bryan Winter met this woman in a Washington, D.C., bar. They had some laughs. They danced.

They exchanged e-mail addresses.

Some time over the course of the next week, the ritual of cyber-courtship continued. But then it disintegrated faster than a California marriage.

The woman e-mailed Bryan with a couple of get-to-know-you questions like, "Hey, what's your last name?" And what happened next made history.

Perhaps it was all-too-easy to blow this woman off, considering the anonymity of e-mail communication. Was Bryan simply a do-right guy with an extraordinarily lousy sense of humor? Or was he indeed a narcissistic prig? For whatever reason, Bryan responded to his dance partner this way:

"You seem like a nice person, and I don't mean this as badly as it might sound, but I don't have time for twenty questions by e-mail. I met five girls...
---
Start today. Cancel any time.
Act now and, for just $7.99 a month or $69.95 a year, you'll receive a full year of this valuable sermon preparation resource.
Our convenient, continuous-subscription program ensures you'll never miss out on the inspiration you need, when you need it.
You're never obligated to continue. Naturally, you may cancel at any time for any reason, no questions asked.