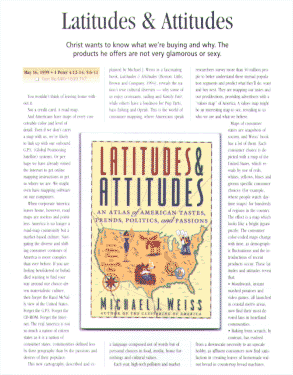 Latitudes & Attitudes
Sunday, May 16, 1999
|
1 Peter 4:12-14; 5:6-11
Don't know anything about geography? No matter. Your Rand McNally view of the United States won't help you in a nation of consumer states, of communities defined less by their geography than by the passions of their people. What we have here are latitudes and attitudes for a very distinct cultural enclave called the church. What do we look like?
You wouldn't think of leaving home without it.

Not a credit card. A road map.

And Americans have maps of every conceivable color and level of detail. Even if we don't carry a map with us, we're likely to link up with our onboard G.P.S. (Global Positioning Satellite) systems. Or perhaps we have already visited the Internet to get online mapping instructions to get us where we are. We might even have mapping software on our computers.

When corporate America leaves home, however, road maps are useless and pointless. America is no longer a road-map community but a market-based culture. Navigating the diverse and shifting consumer contours of America is more complex than ever before. If you are feeling bewildered or befuddled wanting to find your way around our choice-driven materialistic culture, then forget the Rand McNally view of the United States. Forget the G.P.S. Forget the CD-ROM. Forget the Internet. The real America is not so much a nation of citizen states as it is a nation of ...
---
Start today. Cancel anytime.
Act now and, for just $6.99 a month or $69.95 a year, you'll receive a full year of this valuable, sermon preparation resource.
Our convenient, continuous-subscription program ensures you'll never miss out on the inspiration you need, when you need it.
You're never obligated to continue. Naturally, you may cancel at any time for any reason, no questions asked.