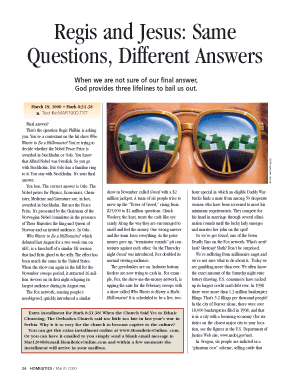 Regis and Jesus: Same Questions, Different Answers
Sunday, March 19, 2000
|
Mark 8:31-38
The greedstakes are on! ABC and Fox network are cashing in on millionaire mania with Who Wants to Be A Millionaire? and Greed. But Jesus has a question that might stump us all.
Final answer?

That's the question Regis Philbin is asking you. You're a contestant on the hit show Who Wants to Be a Millionaire? You're trying to decide whether the Nobel Peace Prize is awarded in Stockholm or Oslo. You know that Alfred Nobel was Swedish. So you go with Stockholm. But Oslo has a familiar ring to it. You stay with Stockholm. It's your final answer.

You lose. The correct answer is Oslo. The Nobel prizes for Physics, Economics, Chemistry, Medicine and Literature are, in fact, awarded in Stockholm. But not the Peace Prize. It's presented by the Chairman of the Norwegian Nobel Committee in the presence of Their Majesties the King and Queen of Norway and an invited audience. In Oslo.

Who Wants to Be a Millionaire? which debuted last August for a two-week run on ABC, is a knockoff of a similar UK version that had Brits glued to the telly. The effect has been much the same in the United States. When the show ran again in the fall for the November sweeps period, it...
---
Start today. Cancel anytime.
Act now and, for just $6.99 a month or $69.95 a year, you'll receive a full year of this valuable, sermon preparation resource.
Our convenient, continuous-subscription program ensures you'll never miss out on the inspiration you need, when you need it.
You're never obligated to continue. Naturally, you may cancel at any time for any reason, no questions asked.