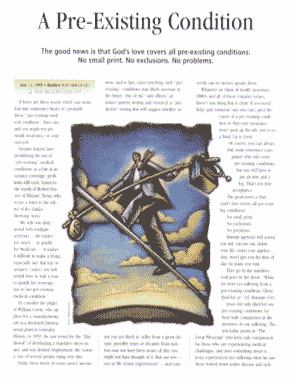 A Pre-Existing Condition
Sunday, June 13, 1999
|
Matthew 9:35-10:8 (9-23)
In medical care, if you have a pre-existing condition, you may or may not get the treatment you need, and in any case, it's not likely to be covered. With Jesus, we're covered. Period.


If there are three words which can strike fear into someone's heart, it's probably these: "pre-existing medical condition." Have one, and you might not get health insurance, or your next job.

Despite federal laws prohibiting the use of "pre-existing" medical conditions as a bar to insurance coverage, problems still exist. Listen to the words of Robert Frazier of Elkhart, Texas, who wrote a letter to the editor of the Dallas Morning News:

"My wife was diagnosed with multiple sclerosis ... she makes too much ... to qualify for Medicare .... It makes it difficult to make a living, especially one that has insurance, [since] my wife would have to wait a year to qualify for coverage, due to her pre-existing medical condition."

Or consider the plight of William Cowie, who applied for a manufacturing job at a Rockwell International plant in Centralia, Illinois, in 1993. He was tested for the "likelihood" of developing a repetitive stress injury, and was denied employment. Mr. Cowie is...
---
Start today. Cancel anytime.
Act now and, for just $6.99 a month or $69.95 a year, you'll receive a full year of this valuable, sermon preparation resource.
Our convenient, continuous-subscription program ensures you'll never miss out on the inspiration you need, when you need it.
You're never obligated to continue. Naturally, you may cancel at any time for any reason, no questions asked.