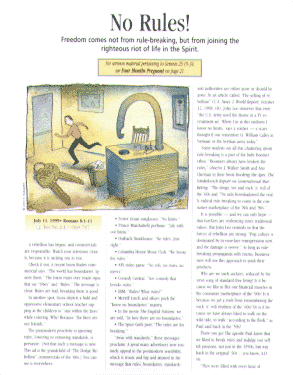 No Rules!
Sunday, July 11, 1999
|
Romans 8:1-11
Have you noticed? Television commercials are selling a rebellion. With slogans like "The world has boundaries. Ignore them," and "Rules are for breaking," television advises watchers to roar over the life signs that say "Obey." In practice, however, our efforts to escape rules only lead to new kinds of bondage.
A rebellion has begun, and commercials are responsible. Watch your television closely, because it is inciting you to riot.

Check it out. A recent Isuzu Rodeo commercial says: "The world has boundaries. Ignore them." The Isuzu roars over roads signs that say "Obey" and "Rules." The message is clear: Rules are bad; breaking them is good.

In another spot, Isuzu depicts a bald and oppressive elementary school teacher yapping at the children to "stay within the lines" while coloring. Why? Because "the lines are our friends."

The postmodern proclivity to ignoring rules, lowering or removing standards, is pervasive. (Not that such a message is new. This ad is the grandchild of "The Dodge Rebellion" commercials of the '60s.) You can see it everywhere:

* Foster Grant sunglasses: "No limits."

* Prince Matchabelli perfume: "Life without limits."

* Outback Steakhouse: "No rules. Just right."

* Columbia House Music Club: "We broke the rules."

* NFL video game: "No refs, no rules, no...
---
Start today. Cancel any time.
Act now and, for just $7.99 a month or $69.95 a year, you'll receive a full year of this valuable sermon preparation resource.
Our convenient, continuous-subscription program ensures you'll never miss out on the inspiration you need, when you need it.
You're never obligated to continue. Naturally, you may cancel at any time for any reason, no questions asked.