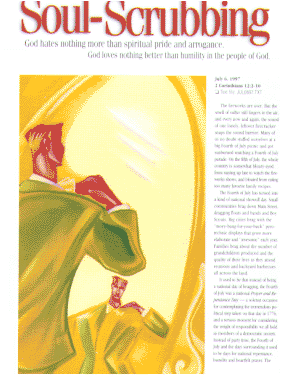 Soul-Scrubbing
Sunday, July 6, 1997
|
2 Corinthians 12:2-10
Humility is a kind of stack-scrubber that cleanses our smelliest selves by binding us to the power of Christ.


The fireworks are over. But the smell of sulfur still lingers in the air, and every now and again, the sound of one lonely, leftover firecracker snaps the sound barrier. Many of us no doubt stuffed ourselves at a big Fourth of July picnic and got sunburned watching a Fourth of July parade. On the fifth of July, the whole country is somewhat bleary-eyed from staying up late to watch the fireworks shows, and bloated from eating too many favorite family recipes.

The Fourth of July has turned into a kind of national showoff day. Small communities brag down Main Street, dragging floats and bands and Boy Scouts. Big cities brag with "more-bang-for-your-buck" pyrotechnic displays that grow more elaborate and "awesome" each year. Families brag about the number of grandchildren produced and the quality of their lives as they attend reunions and backyard barbecues all across the land.

It used to be that instead of being a national day of bragging, the Fourth of July was a national Prayer and ...
---
Start today. Cancel anytime.
Act now and, for just $6.99 a month or $69.95 a year, you'll receive a full year of this valuable, sermon preparation resource.
Our convenient, continuous-subscription program ensures you'll never miss out on the inspiration you need, when you need it.
You're never obligated to continue. Naturally, you may cancel at any time for any reason, no questions asked.