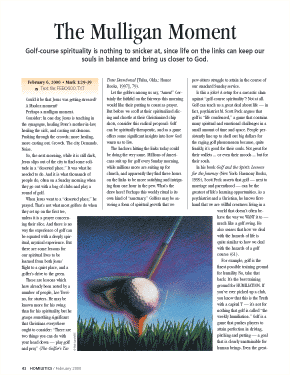 The Mulligan Moment
Sunday, February 6, 2000
|
Mark 1:29-39
Could it actually be better for you to take in a round of golf on Sunday morning instead of worshiping in Church? Maybe. Maybe not. But some suggest that it's wise to know when to get away and find a place of peace and sanctuary. Jesus knew the importance of getting away, and he had to leave his disciples to do it.
Could it be that Jesus was getting stressed?

A Maalox moment?

Perhaps a mulligan moment.

Consider: In one day, Jesus is teaching in the synagogue, healing Peter's mother-in-law, healing the sick, and casting out demons. Pushing through the crowds; more healing, more casting out. Crowds. The city. Demands. Noise.

So, the next morning, while it is still dark, Jesus slips out of the city to find some solitude in a "deserted place."It was what he needed to do. And it is what thousands of people do, often on a Sunday morning when they go out with a bag of clubs and play a round of golf.

When Jesus went to a "deserted place,"he prayed. That's not what most golfers do when they set up on the first tee, unless it is a prayer concerning their slice. And there is no way the experience of golf can be equated with a deeply spiritual, mystical experience. But there are some lessons for our spiritual lives to be learned from both Jesus' flight to a quiet place, and a golfer's drive to the...
---
Start today. Cancel any time.
Act now and, for just $7.99 a month or $69.95 a year, you'll receive a full year of this valuable sermon preparation resource.
Our convenient, continuous-subscription program ensures you'll never miss out on the inspiration you need, when you need it.
You're never obligated to continue. Naturally, you may cancel at any time for any reason, no questions asked.