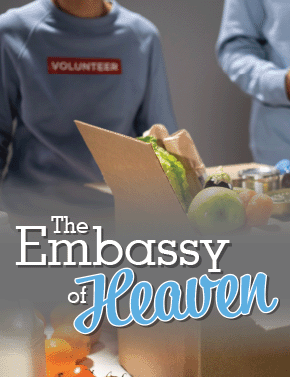 The Embassy of Heaven
Sunday, March 27, 2022
|
2 Corinthians 5:16-21
For social climbers, an ambassador's appointment is a coveted political plum. But, in fact, there are a lot more ambassadors out there than many people realize.
"So we are ambassadors for Christ …"
—2 Corinthians 5:20a
If you're ever driving down Massachusetts Avenue in Washington, D.C., you're sure to spy the large, stately mansions — magnificent in size and appearance — lining the street. Architectural styles vary widely from one building to the next, but those grand houses all have one thing in common: a colorful flag flying out in front.
None of those flags are the Stars and Stripes — even though this is the nation's capital. American flags are a dime a dozen in Washington, D.C., but not on this street. These are the flags of foreign countries.
That section of Massachusetts Avenue is known as "Embassy Row." This moniker alone is enough to explain why flags of so many nations are flying. Each of those imposing buildings is an embassy: a little piece of another nation, embedded there in the capital of the United States.
Were you to walk up to the door of one ...