Stone-Rolling and Doom-Scrolling Mark 16:1-8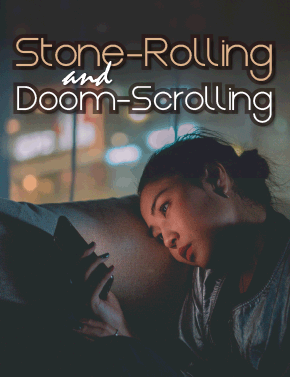 We have nothing to fear, since the stone has been rolled away and the risen Jesus is calling us forward.
AT A GLANCE:
We don't have to dwell on doom and gloom. What if we turned away from the threats and looked for possibilities? Jesus rolled the stone away and called his followers to Galilee. And he is still rolling stones away and calling us forward.
EDITOR'S PICK:
For material based on today's epistle text, see "Jesus Didn't Die a Digital Death," April 8, 2012.
She checks her social media around 10 times a day. Twitter and Facebook are her main sites, but she also looks at Google for news. Since the start of the pandemic, her habit has increased significantly.
"I'm a doom-scroller," she admits to the Healthline website. Yes, this 26-year-old speech therapist confesses that she has a problem. Doom-scrolling is the act of endlessly scrolling down news apps, Twitter, and social media, reading all the bad news. "The pandemic has exacerbated these habits in many ways," says a New York psychologist,...
Start your risk free trial to view the entire installment!
START YOUR RISK-FREE TRIAL
---