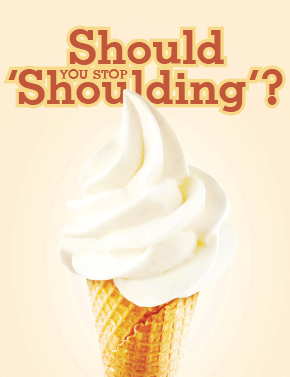 Should You Stop 'Shoulding'?
Sunday, March 7, 2021
|
Exodus 20:1-17
A popular lo-cal ice cream maker thinks we should stop "shoulding" ourselves. But in the Bible, we are faced with many "shoulds" and "should nots."
The Old Testament lesson for today is about the Ten Commandments — a fitting choice for the Third Sunday in Lent.
So, naturally, let's talk about ice cream.
Ice cream is on every child's list of dream desserts. Kids scream for ice cream or a variation thereof — cones, milkshakes, sundaes, bars, etc.
And, they have their flavor preferences, too: Moo-llenium Crunch, Cookie Two Step, Tin Roof, Rocky Road,
Oreo Cookies & Cream, Waffle Cone with Chocolatey Chips, Chunky Monkey, Cherry Garcia, Mint Moose Tracks and Snickerdoodle. [Note: you could talk here about your own childhood and adult relationship with ice cream, and/or mention some local private label companies.]
One fast-growing ice cream company has built its success on its dominance in the diet ice cream market. In 2017, Halo Top became the best-selling pint in grocery stores, even whizzing past such industry giants as Ben & Jerry's and Häagen-Dazs.
This relative newcomer to the ice ...