Unwritten Rules Acts 2:42-47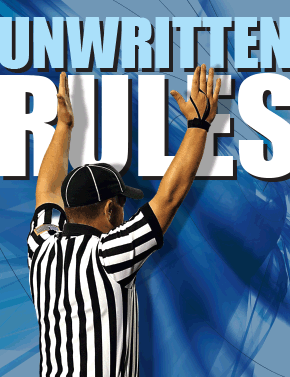 Some things Christians know without needing to be told.
AT A GLANCE:
Many sports, especially professional baseball and golf, have unwritten rules. If you break them, you will not be assessed a foul or penalty because what you did technically conformed to the official rule book. If you are a professional player, you know these rules, so breaking them is serious. Should Christians be concerned about unwritten rules?
EDITOR'S PICK:
For material based on today's gospel text, see "#YOLO," May 11, 2014.
The baseball season now is in full swing. The reigning World Series champions, the Washington Nationals, are hoping to retain the crown.
Baseball, like any sport, has rules. Most of these rules are codified in a complex document that has been revised and ratified at various times by the owners of the baseball clubs in Major League Baseball. You follow these official rules, and if you don't, you pay a penalty.
But baseball has unwritten rules as well. Some of these include:
Start your risk free trial to view the entire installment!
START YOUR RISK-FREE TRIAL
---