What Termites Can Teach Us Colossians 2:6-15, 16-19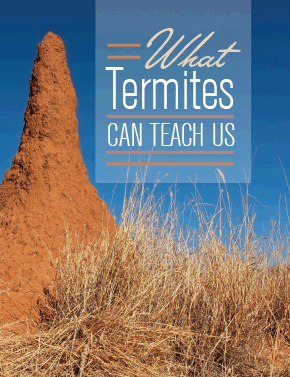 A church that is focused and self-organized will do great things.
AT A GLANCE:
Of all the creatures of the world, termites offer the best illustration of what it means to be active members of the body of Christ.
EDITOR'S PICK:
For material based on today's gospel text, see "Relearning the Lord's Prayer," July 28, 2013.
American individualism.
We see it in the rugged, resourceful heroes of our action movies. In cowboys and astronauts and entrepreneurs and inventors. In women and men who show resilience and self-sufficiency and independence.
Such individuals are an important part of the American dream, and we see them just about everywhere.
Where we don't see them is in Paul's letter to the Colossians.
"The whole body," he writes, "nourished and held together by its ligaments and sinews, grows with a growth that is from God" (v. 19).
Paul is not talking about the human body — its anatomy and physiology. Instead, he is describing the body of Christ, a...
Start your risk free trial to view the entire installment!
START YOUR RISK-FREE TRIAL
---