Heaven on Earth Revelation 21:1-6a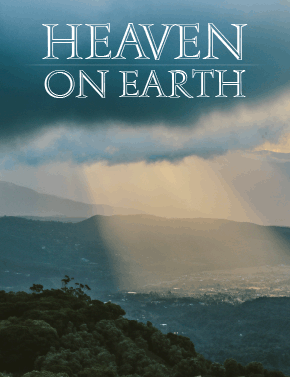 We need not wait to go to heaven; it's possible that heaven will come to us.
AT A GLANCE:
"Heaven on earth." It's an expression referring to a physical locale that is so exquisitely wonderful, it can only be compared to the platonic ideal: the paradise of the afterlife or heaven as it is described in the book of Revelation. We may not know with certainty what the heaven of the next life is like, but sometimes we encounter an earthly experience that seems to give us a taste.
EDITOR'S PICK:
For material based on today's gospel text, see "The Love Haptic," April 24, 2016.
In June, 1917, a poem by an anonymous author appeared in the Hobo News of St. Louis, Missouri. Called "The Hobo's Last Lament," it relates the last words of one of those princes of the open road who was dying as he lay stretched out inside an empty boxcar on a railroad siding.
A fellow hobo is solemnly listening in. He hears his friend utter these words:
I'm going to a better land,
Where everything is...
Start your risk free trial to view the entire installment!
START YOUR RISK-FREE TRIAL
---