Risus Paschalis Acts 4:32-35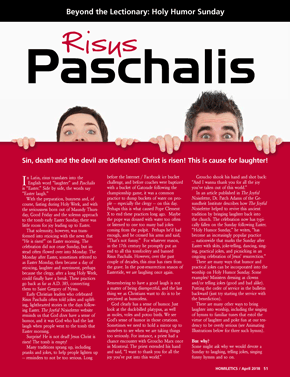 Beyond the Lectionary: Holy Humor Sunday

Sin, death and the devil are defeated! Christ is risen! This is cause for laughter!
At a Glance

Not much to laugh or smile about during Holy Week. And Good Friday is the nadir of the week's solemn religious observances. This mood changes on Easter, however. In the ancient church, a joyful tradition sprang up that celebrated a God who had the last laugh over the devil. Today, the first Sunday after Easter is often celebrated as Holy Humor Sunday, and this is the subject of today's resources.


In Latin, risus translates into the English word "laughter" and Paschalis is "Easter." Side by side, the words say "Easter laugh."

With the preparation, busyness and, of course, fasting during Holy Week, and with the seriousness born out of Maundy Thursday, Good Friday and the solemn approach to the tomb early Easter Sunday, there was little room for joy leading up to Easter. 

That solemnity, however, was transformed into rejoicing with the news that "He is risen!" on Easter morning. The celebration did not cease Sunday, but instead often flowed over into Monday. The Monday after...
Start your risk free trial to view the entire installment!
START YOUR RISK-FREE TRIAL
---