Design Thinking Psalm 148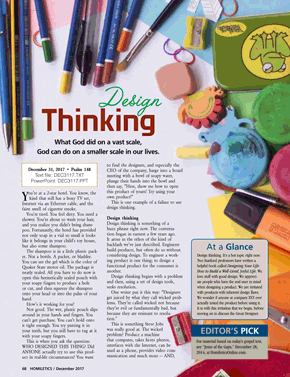 What God did on a vast scale, God can do on a smaller scale in our lives.
Design thinking. It's a hot topic right now. Two Stanford professors have written a helpful book called Designing Your Life: How to Build a Well-Lived, Joyful Life. We love stuff with good design. We appreciate people who have the end user in mind when designing a product. We are irritated with products with inherent design flaws. We wonder if anyone at company XYZ ever actually tested the product before using it. It is with this irritation that we begin, before moving on to discuss the Great Designer.


Editors' Pick

For material based on today's gospel text, see "Jesus of the Gaps," December 28, 2014, at HomileticsOnline.com.


You're at a 2-star hotel. You know, the kind that still has a boxy TV set, Internet via an Ethernet cable, and the faint smell of cigarette smoke.

You're tired. You feel dirty. You need a shower. You're about to wash your hair, and you realize you didn't bring shampoo. Fortunately, the hotel has provided not only soap in a vial so small it looks like it belongs in...
Start your risk free trial to view the entire installment!
START YOUR RISK-FREE TRIAL
---