Prayers, Pitfalls and Practices Philippians 4:1-9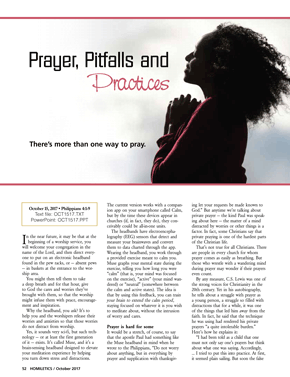 There's more than one way to pray.
At a Glance

The "Muse" is a headband that -- by measuring EEG waves -- is able to monitor the wearer's level of serenity. The EEG activity is fed back to the user by headphones, and when a relaxed state of being is achieved, the user hears birds tweeting, chirping or warbling. When the user is experiencing high levels of anxiety, the user hears storms and thunderclaps. The makers of Muse insist that using their headband will help worriers achieve a state of deep, stress-free relaxation. Could happen. But the apostle Paul offers a plan that has the same outcome and at no cost.


Editors' Pick

For material based on today's OT text, see "It Seemed Like a Good Idea at the Time …," October 9, 2011, at HomileticsOnline.com.


In the near future, it may be that at the beginning of a worship service, you will welcome your congregation in the name of the Lord, and then direct everyone to put on an electronic headband found in the pew racks, or -- absent pews -- in baskets at the entrance to the...
Start your risk free trial to view the entire installment!
START YOUR RISK-FREE TRIAL
---