Scheduling Problems Acts 1:6-14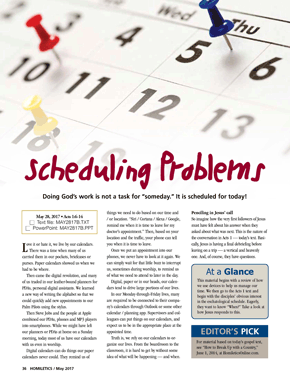 Doing God's work is not a task for "someday." It is scheduled for today!

At a Glance

This material begins with a review of how we use devices to help us manage our time. We then go to the Acts 1 text and begin with the disciples' obvious interest in the eschatological schedule. Eagerly, they want to know "When?" Take a look at how Jesus responds to this.


Editors' Pick

For material based on today's gospel text, see "How to Break Up with a Country," June 1, 2014, at HomileticsOnline.com.


Love it or hate it, we live by our calendars.

There was a time when many of us carried them in our pockets, briefcases or purses. Paper calendars showed us when we had to be where.

Then came the digital revolution, and many of us traded in our leather-bound planners for PDAs, personal digital assistants. We learned a new way of writing the alphabet so that we could quickly add new appointments to our Palm Pilots using the stylus.

Then Steve Jobs and the people at Apple combined our PDAs, phones and MP3 players into smartphones. While we might have left our planners or PDAs...
Start your risk free trial to view the entire installment!
START YOUR RISK-FREE TRIAL
---