Let's Keep Herod in Christmas Matthew 2:13-23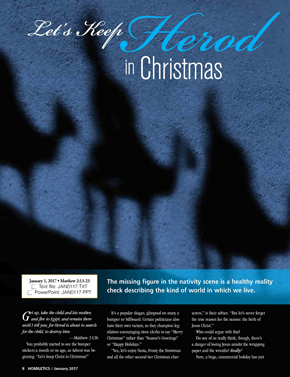 The missing figure in the nativity scene is a healthy reality check describing the kind of world in which we live.
At a Glance

Christmas pageants are a tradition in churches across the land. Every Sunday school Christmas play has three characters: Mary, Joseph and baby Jesus. There might be angels, shepherds and wise men. But there is one person who's never in the Christmas pageant, and rightly so. Yet, it is important that we keep him in Christmas.


Editors' Pick

For material based on today's epistle text, see "The Word of the Year," December 30, 2007, at HomileticsOnline.com.


Get up, take the child and his mother, and flee to Egypt, and remain there until I tell you; for Herod is about to search for the child, to destroy him.

--Matthew 2:13b

You probably started to see the bumper stickers a month or so ago, as Advent was beginning: "Let's keep Christ in Christmas!"

It's a popular slogan, glimpsed on many a bumper or billboard. Certain politicians also have their own variant, as they champion legislation encouraging store clerks to say "Merry Christmas" rather than "Season's Greetings" or "Happy...
Start your risk free trial to view the entire installment!
START YOUR RISK-FREE TRIAL
---