Handling the Inheritance Titus 3:4-7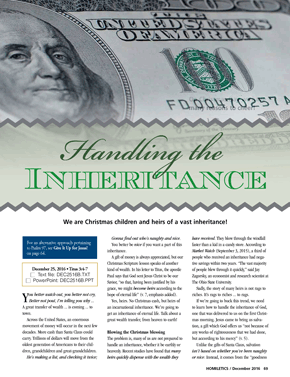 We are Christmas children and heirs of a vast inheritance!
At a Glance

A huge transfer of wealth is about to take place as the Boomer generation turns over its portfolio to its Gen-X children and Millennial grandchildren. But experience, as well as the data, suggests that the inheritors of great wealth often blow through it rather quickly. The apostle Paul writes to Titus saying that we are "heirs." What is the inheritance and how will we "spend" it?


EDITORS' PICK

For material based on today's gospel reading, see "St. Nicholas Nicked," December 24, 2005, at HomileticsOnline.com.


You better watch out, you better not cry,
Better not pout, I'm telling you why ...

A great transfer of wealth ... is coming ... to town.

Across the United States, an enormous movement of money will occur in the next few decades. More cash than Santa Claus could carry. Trillions of dollars will move from the oldest generation of Americans to their children, grandchildren and great-grandchildren.

He's making a list, and checking it twice;
Gonna find out who's naughty and...
Start your risk free trial to view the entire installment!
START YOUR RISK-FREE TRIAL
---