The Agape Update 1 Corinthians 13:1-13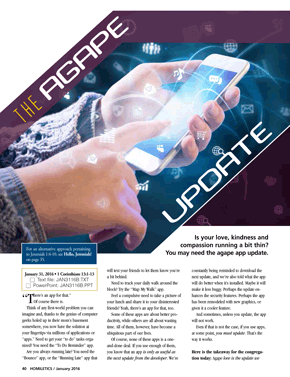 Is your love, kindness and compassion running a bit thin? You may need the agape app update.

At a Glance

It is not a stretch to say that there are millions of apps available today for use on our smartphones and tablets. Many of these, however, will not work properly unless we "update" them. Usually, we are notified when an update is needed. Perhaps a little red asterisk sits atop the "App Store" logo on our smartphones. Consider 1 Corinithians 13 the agape app update. Without it, well, the apostle Paul says, we ain't got nothin'.


Editors' Pick

For material based on today's gospel text, see "Heroes and Zeros," February 1, 2004,  at HomileticsOnline.com.


"There's an app for that."

Of course there is.

Think of any first-world problem you can imagine and, thanks to the genius of computer geeks holed up in their mom's basement somewhere, you now have the solution at your fingertips via millions of applications or "apps." Need to get your "to do" tasks organized? You need the "To Do Reminder" app.

Are you always running late? You need the "Bounce" app, or the "Running Late" app that...
Start your risk free trial to view the entire installment!
START YOUR RISK-FREE TRIAL
---