The Terror of Advent Malachi 3:1-4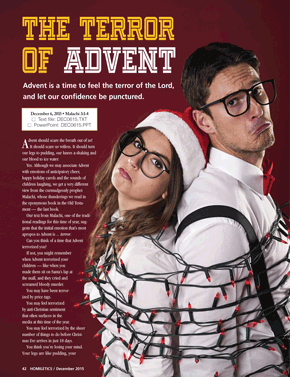 Advent is a time to feel the terror of the Lord, and let our confidence be punctured.

At a Glance

Advent, the prelude to Christmas, is a happy and cheerful time, right? It's a season of joy and excitement. It's about festive decorations and beautiful music. So why is the prophet saying we should be scared out of our wits with the coming of the Lord?


Editors' Pick

For material based on today's gospel text, see "The Crime of Christmas," December 8, 1991, at HomileticsOnline.com.


Advent should scare the breath out of us!

It should scare us witless. It should turn our legs to pudding, our knees a-shaking and our blood to ice water.

Yes. Although we may associate Advent with emotions of anticipatory cheer, happy holiday carols and the sounds of children laughing, we get a very different view from the curmudgeonly prophet Malachi, whose thunderings we read in the eponymous book in the Old Testament -- the last book.

Our text from Malachi, one of the traditional readings for this time of year, suggests that the initial emotion that's most apropos to Advent is ......
Start your risk free trial to view the entire installment!
START YOUR RISK-FREE TRIAL
---