You Are Here Esther 7:1-6, 9-10, 9:20-22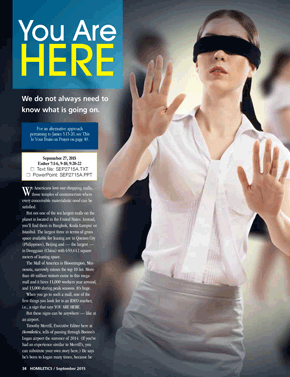 We do not always need to know what is going on.

At a Glance

YOU ARE HERE signs can be found in shopping malls and airports -- anywhere people might possibly get disoriented or experience what some call spatial vertigo. This brings us to the story of Esther, a young woman who absolutely had to be confused as to the reason for her sudden and spectacular rise to fame and glory.


Editors' Pick

For material based on today's gospel text, see "What Makes You Cry?", September 28, 1997, at HomileticsOnline.com.


We Americans love our shopping malls, those temples of consumerism where every conceivable materialistic need can be satisfied.

But not one of the ten largest malls on the planet is located in the United States. Instead, you'll find them in Bangkok, Kuala Lumpur or Istanbul. The largest three in terms of gross space available for leasing are in Quezon City (Philippines), Beijing and -- the largest -- in Dongguan (China) with 659,612 square meters of leasing space.

The Mall of America in Bloomington, Minnesota, narrowly misses...
Start your risk free trial to view the entire installment!
START YOUR RISK-FREE TRIAL
---