How Underdogs Can Win 1 Samuel 17:(1a, 4-11, 19-23), 32-49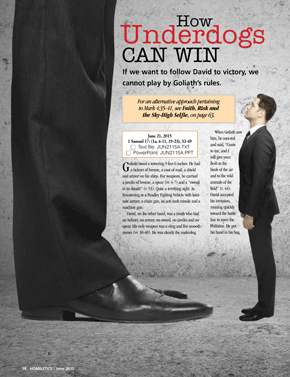 If we want to follow David to victory, we cannot play by Goliath's rules.

At a Glance

Underdogs are called "underdogs" for a reason. They are outnumbered, or they're smaller, weaker or lacking in tools or weapons. They should not prevail in the contest in which they're entered. Yet, often, they do. Why? How could the little skinny shepherd boy prevail in a mano a mano contest against an armed and dangerous giant?


Editors' Pick

For material based on today's epistle text, see "A Choir for the Complaining," June 21, 2009, at HomileticsOnline.com. 


Goliath stood a towering 9 feet 6 inches. He had a helmet of bronze, a coat of mail, a shield and armor on his shins. For weapons, he carried a javelin of bronze, a spear (vv. 4-7) and a "sword in its sheath" (v. 51). Quite a terrifying sight. As threatening as a Bradley Fighting Vehicle with laminate armor, a chain gun, an anti-tank missile and a machine gun.

David, on the other hand, was a youth who had no helmet, no armor, no sword, no javelin and no spear. His only weapon was a sling...
Start your risk free trial to view the entire installment!
START YOUR RISK-FREE TRIAL
---