The Ethiopian Innovation Acts 8:26-40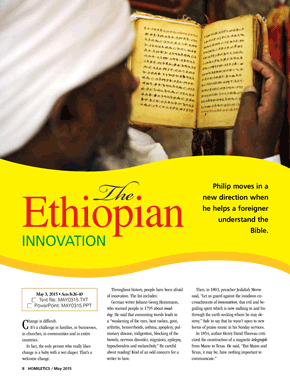 Philip moves in a new direction when he helps a foreigner understand the Bible.
At a Glance

Fast Company magazine recently published an interesting article about all the fear-mongering going on these days about the Internet. The article cites examples from the past in which cultural leaders, writers and important people inveighed against everything from reading to automobiles. Since today's Acts text tells of a very strange encounter between two unlikely people, we thought that the word "innovation" was a good fit here. The text challenges us to consider how we might "sit beside and guide" the "foreigner" in our own communities.


Editors' Pick

For material based on today's gospel text, see "Canopy Management," May 18, 2003, at HomileticsOnline.com.


Change is difficult.

It's a challenge in families, in businesses, in churches, in communities and in entire countries.

In fact, the only person who really likes change is a baby with a wet diaper. That's a welcome change.

Throughout history, people have been afraid of innovation. The list includes:

German writer Johann...
Start your risk free trial to view the entire installment!
START YOUR RISK-FREE TRIAL
---