Mercy and Graced to Life! Ephesians 2:1-10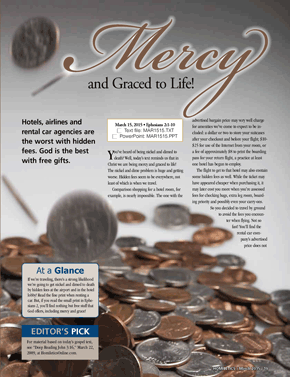 Hotels, airlines and rental car agencies are the worst with hidden fees. God is the best with free gifts.
At a Glance

If we're traveling, there's a strong likelihood we're going to get nickel and dimed to death by hidden fees at the airport and in the hotel lobby! Read the fine print when renting a car. But, if you read the small print in Ephesians 2, you'll find nothing but free stuff that God offers, including mercy and grace!


Editors' Pick

For material based on today's gospel text, see "Deep Reading John 3:16," March 22, 2009, at HomileticsOnline.com.


You've heard of being nickel and dimed to death? Well, today's text reminds us that in Christ we are being mercy and graced to life!

The nickel and dime problem is huge and getting worse. Hidden fees seem to be everywhere, not least of which is when we travel.

Comparison shopping for a hotel room, for example, is nearly impossible. The one with the advertised bargain price may very well charge for amenities we've come to expect to be included: a dollar or two to store your suitcases after your checkout and before your flight;...
Start your risk free trial to view the entire installment!
START YOUR RISK-FREE TRIAL
---